UPDATES
---
9-13-21: As kids are back in school, and with the continued obstacles we face due to COVID, our shedule tends to book up with the very *popular* before and after school appointment slots. When possible, we recommend that you schedule your next appointment immediately following your last appointment as to best accomodate everyone's busy schedule.
SCREENING FORM
---
Please click below to fill out the form one day before your appointment. This needs to be filled out prior to every appointment until further notice. We truly appreciate your cooperation during these changing times.
Existing Patients: Fill out only Part A skip to Part C. You can add siblings to one form if we are seeing them on the same day.
New Patients: Fill out the form in its entirety
---
STEPS TO FOLLOW PRIOR TO YOUR APPOINTMENT
---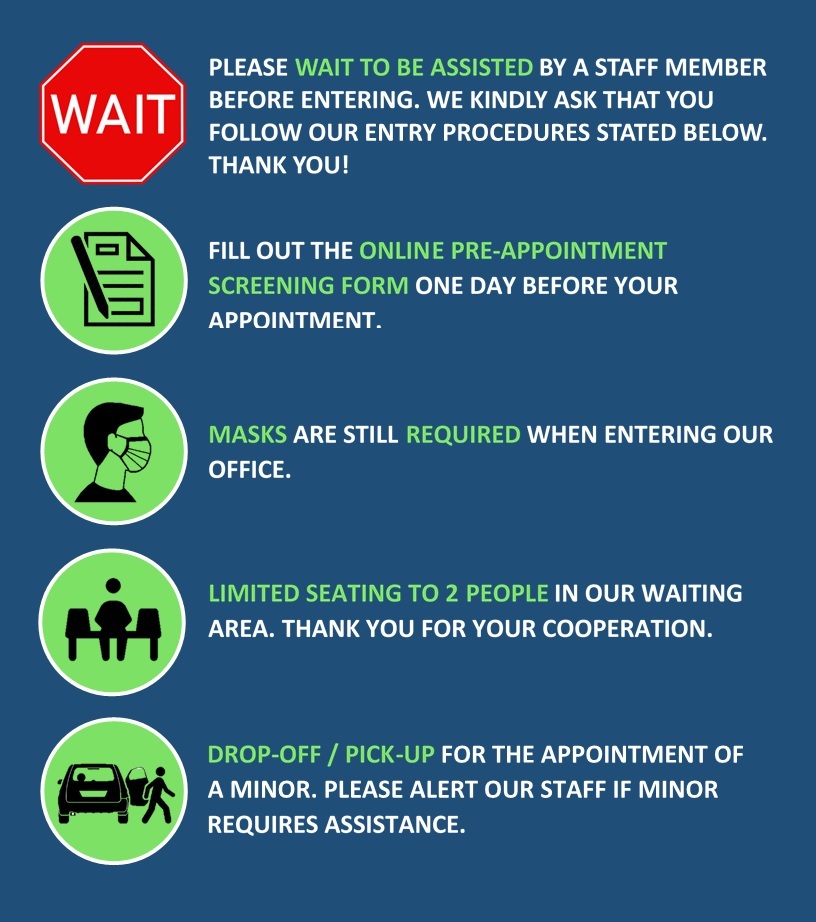 ---
NEW IN-OFFICE PROTOCOLS
---
We hope that all of you are in good health and have adjusted to the new normal. Although there have been many changes over the past few months, our commitment to your safety and well-being remains the same. We will continue to deliver the highest quality of care while implementing new protocols and procedures to ensure the safety of our patients, families and staff.
Infection control has always been a top priority in our office. We are following guidelines recommended by the American Dental Association (ADA), the Centers for Disease Control (CDC), the Occupational Safety and Health Administration (OSHA) and the Illinois Department of Public Health (IDPH). We will continue to monitor these agencies to stay up-to-date on any new guidance they release.
---
The following outlines some of the new protocols we have implemented:
Daily health screening of our staff
Mandatory pre-screening of each patient prior to arriving to appointments
Modified patient schedule that will accommodate 6-feet social distancing in the clinic
Mandatory masks for anyone entering the office
Temperature reading of anyone entering the office using a non-contact infrared thermometer. Anyone with a temperature over 100 degrees Fahrenheit will not be seen that day.
Modified drop-off / pick-up of patients
Installation of air purifiers with medical grade filters in strategic areas
Enhanced disinfection protocols throughout the office
Specialized Personal Protective Equipment (PPE) worn by all staff – we may look different but it's still us!
Procedures requiring a high-speed handpiece will now be performed with our a new extraoral suction machine to further minimize any aerosolization
---
To further ensure the safety of everyone, we will be accepting payments over the phone. Any recurring charges and payments can be set-up with our staff.
We will continue to update everyone by email and text of any additional changes as we all adjust to this new normal. Please go to patient login at kerznerortho.com and confirm that we have your most updated contact information. As always, please feel free to call us directly with any questions you may have. We deeply value your trust and look forward to seeing you soon!
Best regards,
Dr. Shoel Kerzner and Staff